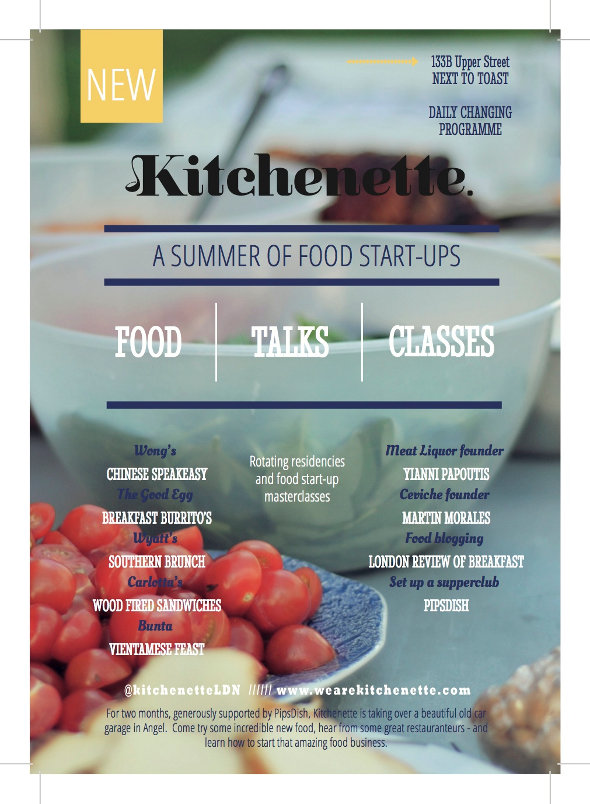 Kitchenette Summer
We at Kitchenette HQ are running a Kitchenette Pop-Up this July and August, in a disused Citroen car garage in Islington. It's the first step towards us having our own kitchen – where food entrepreneurs can learn from people who've done it before, swap knowledge, support each other and share suppliers.
Join us for talks, classes and all kinds of rotating residencies from some of London's best up-and-coming food start-ups at 133B Upper Street, N1 FEATURING FOOD. The kitchen is both a testing ground and a showcase for our fantastic first cohort. We feature start-up food entrepreneurs in rotating residencies; that means delicious, original and ethically-sourced food from around the world, round the clock.
FOOD & FOUNDERS SERIES
The Food & Founders series brings you talks from London's most successful food entrepreneurs: they discuss their journey from start-up to booming business, followed by a Q&A, while you sample their juiciest dishes.
'HOW TO' CLASSES
Vital food start up master-classes from some of the smartest folk in the industry. Sessions will focus on key elements of the business process, from designing a killer menu, to penning a food business plan, to developing top grade restaurant management.
Where will the Kitchenette Summer Events take place?
All events take place at:

 133B Upper Street
 London
 N1 1QP
  
Angel underground station is a 10 minute walk south, and Highbury / Islington station is a 10 minute walk north. Essex Road overground station is a 10 minute walk east.