Pips Dish Pop-Up Challenge — 21-24 May, Islington N1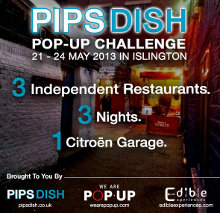 For three nights, PipsDish in Islington is hosting three of London's hottest rising pop-up restaurateurs. Chosen from a list of dozens of applicants, Cult Events, AMooseBush and Zoe's Ghana Kitchen have been awarded one night to bring their character and expertise in the kitchen to the next level. This is a unique opportunity to experience tomorrow's restaurateurs at their best: with a day's preparation and one night to shine.
Don't miss out on tasting some pop-up history. Book your seats now!